Plymouth students reject university's reply to demands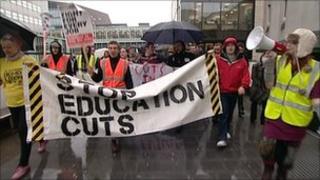 Students at the University of Plymouth are continuing their protest after rejecting the university's response to their demands.
About 20 students have slept in the Roland Levinsky building for six nights in protest against a planned rise in tuition fees and cuts to courses.
The students also sent a list of demands to the vice chancellor.
But they rejected her response saying they were "not being taken seriously" and were "not prepared to negotiate".
Under government proposals, tuition fees at English universities could increase to £9,000 and government funding for university teaching budgets will be withdrawn from many subjects due to spending cuts.
Emma Wilson, vice president of education and welfare at the university students' union, said: "We did receive a response, but the response wasn't on headed paper, it didn't have a signature on it and it didn't address the demands individually."
The list of demands included requests that staff on salaries of at least £100,000 undergo a pay cut and that a rise in fees is reflected with a rise in bursaries and hardship funds.
The university responded with a letter which said the board of governors had discussed the list of demands, but they did not have "all the information necessary to enable universities to define detailed plans for the future".
It also said the university was undertaking "scenario planning based on a range of assumptions" which relied on further details from the government.
The students said they would respond on Monday.
Ms Wilson added: "We're all in high spirits. We had live music last night which was fabulous and tonight we've got some bands."
The students are also planning to take part in national protests on Tuesday and Sunday 5 December.