Strictly star Widdecombe opposes badger cull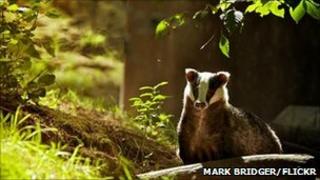 Former MP Ann Widdecombe is supporting a campaign against the culling of badgers.
Ministers propose licensing farmers in England to shoot badgers on their land to curb the spread of bovine TB.
Ms Widdecombe, a contestant on BBC One's Strictly Come Dancing, has added her support to animal-rights group Viva's campaign to stop the cull plans.
The government says culling is badly needed, but Ms Widdecombe, from Devon, said it was not the answer.
Ms Widdecombe, former MP for Maidstone and The Weald, told Viva: "There is a strong body of opinion that wholesale culling is not the answer.
"I wish this project every success in highlighting alternatives."
Ms Widdecombe was one of only a few Tory MPs to support a ban on fox hunting.
Viva hopes her support will attract more people to sign petitions and join demonstrations on Saturday in what it is calling a National Day of Action for Badgers.
The Department for Environment, Food and Rural Affairs (Defra) says that controlling TB costs the government about £80m a year.
A total of 1,660 cattle who tested positive for TB were slaughtered in Cornwall from January to August 2010. In Devon the figure was 3,850 over the same period.
Public consultations on the proposed cull are due to end in December.