Torbay Mayor Nick Bye loses local Conservative support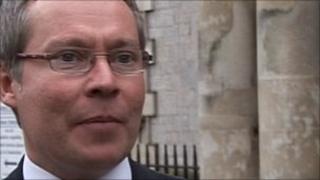 Mayor of Torbay Nick Bye says he will fight to represent the borough despite being deselected by the Conservatives as the official candidate.
Mr Bye, who became Torbay's first elected mayor in 2005, failed to secure enough votes in a secret ballot of the executive of the local party.
Mr Bye is considering challenging his party's decision or standing against them as an independent.
Mayoral elections will be held in May 2011.
The elected mayor has responsibility for giving direction to the council and managing the delivery of its services.
Mr Bye said: "I feel in Torbay in the last five years, more has been achieved than in the previous 15 years.
"This is a place sadly in decline. Social and economic deprivation in some of our inner town neighbourhoods is equivalent to some of our most depressed cities."
He said adult social care was "performing well" and there had been improvements at schools.
But the council came under fire from Ofsted this year for "inadequate" child protection services.
Mr Bye said he would consider standing as an independent candidate.
He said: "I will carry on doing the job until 5 May and we shall just have to see what comes along.
"Unfortunately, when you have been judged in this way it puts you in a very difficult situation."
Mr Bye was one of the contenders for the Totnes Conservative candidacy in the general election in May, but was defeated by local doctor Sarah Wollaston.
Torbay Conservative Association was unavailable for comment.