Plymouth students continue to protest against fees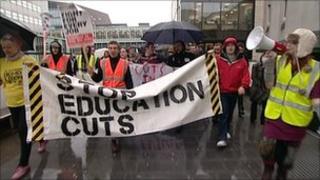 Students at the University of Plymouth are continuing to occupy a room in protest against a planned rise in tuition fees and cuts to courses.
About 20 students slept in Room 008 in the Roland Levinsky building and are preparing to stay there all day.
The students presented the university's vice chancellor with a list of demands they want met.
The protesters said they would continue to occupy the building until they had received a response.
Emma Wilson, vice president of education and welfare at the university students' union, said: "At the moment there's about 25 of us, we're all sleeping in here, and I think we'll definitely be here for the remainder of the day."
Ms Wilson said that protesters around the country had been supporting each other.
She said: "Royal Holloway are doing a sit-in so we've been posting messages of solidarity to those guys, Newcastle and Warwick.
"And we've been having webcam sessions where we can talk to them."
Under government proposals, tuition fees at English universities could go up to £9,000, and government funding for university teaching budgets will be withdrawn from many subjects due to spending cuts.
The students have handed a list of demands to the university's vice chancellor, which include that staff on salaries of at least £100,000 undergo a pay cut and that a rise in fees is reflected with a rise in bursaries and hardship funds.
Professor Wendy Purcell said: "We are sympathetic to student concerns about rising tuition fees and recognise their right to peaceful protest."
On Wednesday, about 200 students from King Edward VI Community College in Totnes walked out and more than 300 students turned out for a protest at Princesshay in Exeter.