Protesters object to masterplan for new homes in Devon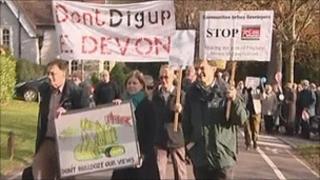 Protesters have demonstrated outside East Devon District Council's offices over plans which could see 16,400 homes built in the area by 2026.
The Communities before Developers group fears the council's 15-year masterplan may lead to "urban sprawl" across one of the UK's "most beautiful districts".
The council is seeking feedback on the plans as part of a 12-week consultation which is due to end on 30 November.
A council spokesman said comments would be used to draw up a new set of ideas.
'Spectacular success'
According to the council, the previous government outlined how many houses needed to be built in the district by 2026 as part of its Regional Spatial Strategy.
However, when the new government came into power it said that the target could be revised which is why East Devon District Council is staging its consultation exercise.
Claire Wright, from Communities before Developers, said: "From our point of view the demonstration has been a spectacular success in terms of turnout.
"We expected about 50 people but there were probably about 120 who turned out and they were from all over the district.
"I think this really shows the concerns about the local development framework don't just rest with one part of the district."
East Devon District Council spokesman Nick Stephen said: "We welcome people coming to us with their opinions and the feedback we receive will be used as part of the analysis of the whole consultation process."
Mr Stephen added that the feedback from the consultation would be formulated into a new document which would come out in the new year.
This would also be consulted and the findings used to reach a consensus which in turn would become a guide for years to come, he said.