Plymouth police stop wearing head cameras to save money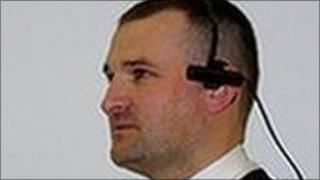 Front-line police officers in Plymouth will no longer routinely wear head cameras in a cost-cutting exercise by Devon and Cornwall Police.
The cameras provide a live recording of incidents attended by the wearer.
They have been credited with helping to identify offenders, gather evidence and reduce violent crime.
Det Ch Insp David Beer, from Devon and Cornwall Police, said the cameras were a "useful tool" but the force had to save £44m over the next four years.
Police in Plymouth pioneered the use of the head cameras, which cost about £1,700 each, in a Home Office trial four years ago.
They have since been adopted by forces around the country.
Det Ch Insp Beer said: "The whole cost for us last year was £330,000.
"They are a very useful tool but this is all about seeking value for money."
He said head cameras would continue to be used on planned operations and at night-time during weekends.
Nigel Rabbitts, Devon and Cornwall Police Federation chairman, said: "This was seen as a national project to bring more offenders to justice.
"It protects both the public and my members.
"We're very disappointed that they've pulled the funding on this."
Det Sgt Ian Reid, from the Devon and Cornwall Domestic Abuse Investigation Team, said: "[The cameras] provide excellent evidence from the scene.
"This will cause frustration within the future gathering of evidence at the scene of a crime."
A report 10 weeks into the Plymouth head camera pilot scheme found there had been an 8% drop in violent crime and a 40% increase in the number of violent crimes detected.
There was also an 18% reduction in woundings and a fall in complaints to the force.