Wreck of French privateer found 60 miles off Devon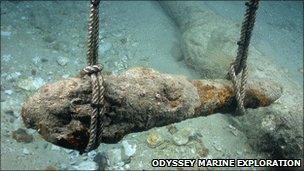 Remains of an 18th Century French frigate blamed for attacking British merchant ships have been found about 60 miles off the Devon coast.
A team from US marine archaeology firm Odyssey Marine Exploration found the wreck of La Marquise de Tourny.
It is believed to be the first privateer found off the UK, a type of ship authorised to seize enemy cargo.
The material goes into Odyssey's own collection and will be displayed on its website or lent to museums.
No artefacts from the shipwreck will be sold, said Odyssey which scours the sea around the world for shipwrecks.
The Bordeaux-based ship is thought to have captured a number of English ships before it was lost in a storm in the late 1740s or early 1750s.
The wreck has been badly damaged by trawlers, but finds include 25 iron cannon up to 10ft (3m) long and parts of French bottles made of blue glass.
Greg Stemm, Odyssey's co-founder, said: "The Marquise de Tourny is one of our most important discoveries in the English Channel."
Odyssey was also behind the discovery in the English Channel of The Victory, the predecessor to Lord Nelson's Victory.
Related Internet Links
The BBC is not responsible for the content of external sites.