Man died after equipment failure at Plymouth hospital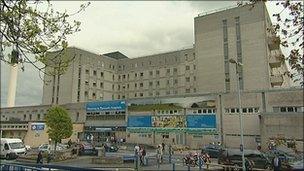 A man died in a Plymouth hospital after staff were unable to clear his airway despite using three different sets of equipment, an inquest has heard.
Retired civil servant Cecil Barnes, 79, died at Derriford Hospital in 2008.
During his stay, he was violently sick and inhaled some of his vomit. He later had a heart attack and died.
The hearing in Plymouth was also told that 10 wall-mounted suction units had been damaged or were missing vital parts. The inquest continues.
Mr Barnes, originally from Levant in Cornwall, had an operation to remove his bladder in July 2008.
His surgeon, Esther McClarty, said the operation had gone ahead without complications and Mr Barnes had been progressing well.
However, six days later, Mr Barnes was violently sick and inhaled vomit.
Staff on Lyd Ward trying to clear his airway after this were unable to make equipment work, the inquest heard.
Maintenance engineer Gregory Hamley told the inquest that when he inspected a wall-mounted suction unit he found it had been damaged by improper use.
He said that he had also found nine other such units on the ward were missing vital parts.
The barrister for the family, Dr Michael Powers, asked him if he thought it was a "serious dereliction of the people concerned to leave it in a state where it cannot be used?".
Mr Hamley said: "All I can say is yes."
Related Internet Links
The BBC is not responsible for the content of external sites.