Unexploded German WWII bomb found in Plymouth detonated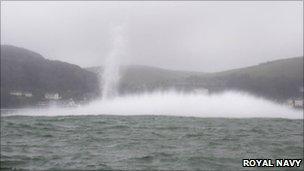 A German World War II bomb found in Plymouth city centre has been safely detonated.
The partially-buried device was discovered by workmen at a building site in Notte Street on Thursday.
The Ministry of Defence (MoD) took the unexploded device off Cawsand bay to detonate it.
The MoD said the bomb was detonated at 1030 GMT but further explosives were needed at 1151 GMT to ensure it had been completely destroyed.
The bomb was discovered by workmen at about 1540 GMT on Thursday and a 300m cordon was set up.
Neighbouring buildings including the Holiday Inn and Duke of Cornwall Hotels were evacuated and residents who were unable to return home stayed at Plymouth Pavilions sports centre until about 2300 GMT.
After the bomb was made safe, Plymouth City Council said in a statement: "A German wartime bomb has been made safe and removed from Plymouth city centre by an MoD explosive ordnance disposal team.
"The 70kg German wartime bomb was stabilised by the MoD explosive ordnance disposal team before being moved to Millbay and taken off shore.
"The bomb will be kept underwater at sea overnight before being disposed of."
Related Internet Links
The BBC is not responsible for the content of external sites.