Flybe passenger plane in near miss at Exeter Airport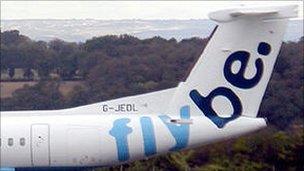 A Flybe plane with 58 passengers on board had a near miss with a Boeing 737 at Exeter Airport, a report has found.
The Dash 8 plane lined up at the end of the same runway which the larger plane was landing on, said the Air Accidents Investigation Branch (AAIB).
But the 737 aircrew spotted the Flybe plane and left the runway at an intersection.
Flybe said human error contributed to the incident in October 2009.
The commander and co-pilot of the Dash 8, flying to Edinburgh, had been told to wait at a holding position short of the runway.
But they became "distracted" and lined up at one end of a runway just as a Boeing 737 was landing at the other end, the report revealed.
The AAIB said the Boeing 737, with two crew aboard and flown by UK airline Astraeus, saw the Dash 8 and left the runway.
'Unfamiliar with airport'
The Dash 8 was then given clearance to take off and departed.
The report said both crew members were likely to have been tired after a broken night's sleep and a busy day.
The report added that the co-pilot "was not adequately monitoring the commander, who was unfamiliar with the airport".
Flybe said: "Human error, and a failure to meet the exacting standards we set ourselves, contributed to an incident which should not have occurred.
"The airline industry operates under the strictest of regulatory regimes, which is why aviation remains the safest of all forms of public.
"Reports such as today's merely re-emphasise this fact and is why Flybe and all airlines place safety as its number one priority."
Related Internet Links
The BBC is not responsible for the content of external sites.