Plymouth navy medic wins 'fearless' award at ceremony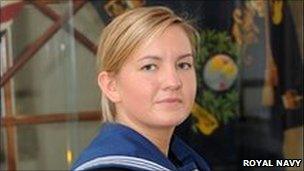 A military medic based in Plymouth has been named Ultimate Fearless Female after saving the life of a soldier.
Acting Leading Medic with the Royal Navy, Kate Nesbitt, 22, won the accolade at the Cosmopolitan Ultimate Women of the Year Awards in London.
Based at Derriford Hospital she was recognised for attending to L/Cpl Jonathan List who had been shot in the face during a battle in Afghanistan.
Ms Nesbitt said: "I was very honoured to be given this award."
The medic treated L/Cpl List during a patrol in March 2009 after he had been shot in the left side of his face with the bullet ricocheting out of the side of his neck.
Ms Nesbitt stayed with him for half an hour while under fire, until he was put on to a medical evacuation helicopter.
Cosmopolitan's Editor, Louise Court said: "Kate is an inspiration to us all, and her dedication to the Royal Navy, her colleagues, and the public is simply astonishing."
Ms Nesbitt was also the first member of the Royal Navy to be awarded the Military Cross for "exemplary gallantry during active operations against the enemy" for the same incident in November 2009.
Related Internet Links
The BBC is not responsible for the content of external sites.