Devon serviceman Mark Stonelake in Poppy Appeal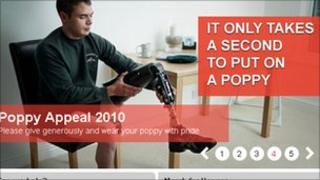 A Devon serviceman is featured on Royal British Legion posters calling for people to donate to this year's Poppy Appeal.
Gunner Mark Stonelake, 26, of 29 Commando Regiment, Royal Artillery, had his left leg amputated in December 2008 after his vehicle hit a roadside bomb in Afghanistan.
He also had multiple injuries to other parts of his body and a broken back.
Since the incident, Gunner Stonelake said the Legion had been "brilliant."
Gunner Stonelake, of Paignton, said: "We saw the Taliban coming towards our area.
"We went to point our weapon in his general direction to ward him off, and up came the actual pressure plate.
"It blew us all up in the air, 20ft.
"I lost a leg, the bloke next to me is brain damaged for life."
Gunner Stonelake, who has a 10-month old daughter, said the Legion had helped his recovery.
"They sorted me out with a wet room. It's easier for me to go to the toilet, have a shower, and all that kind of stuff.
"And if you want any emotional support, they are there for you."
Despite his injuries and ­initially being told he might never be able to walk again, Gunner Stonelake is now back serving in the armed forces.
Her said he was "honoured" to have been chosen to front the Poppy Appeal.
"It does not take much to put on a poppy and remember the lads."