Ten Tors death river 'flowing fast' before drowning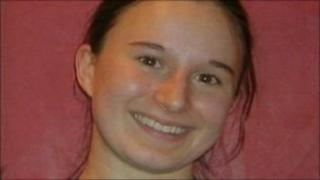 A teacher who fell into a river on Dartmoor where one of her pupils died has told an inquest it was flowing "relatively fast".
Kathryn Timms told the inquest in Exeter she was submerged after falling into the Walla Brook in March 2007.
Hours later, Charlotte Shaw, 14, died in the same stretch of river while training for the Ten Tors challenge.
Charlotte was part of a party of 10 from Edgehill College, now known as Kingsley School, in Bideford.
Miss Timms, who had coached Charlotte in netball at Edgehill, had been due to meet up with the group at a checkpoint on the moor.
She did not because she and a colleague lost their bearings and the youngsters got to the meeting point early.
Miss Timms told the hearing that she fell into the brook on her way back to her car and was in the water for one or two minutes, during which she was swept downstream.
She was able to eventually get out by grabbing on to grass on the bank at a bend, she said.
Navigational skills
Charlotte died that afternoon when she fell into the river during the training exercise, which was held in heavy rain.
Miss Timms said the rain had swollen the rivers on the moor very quickly.
She told the hearing that Charlotte, from Frithelstock, had shown great promise during training and she had recommended that she could be a team leader.
The Ten Tors Challenge, which this year celebrated its 50th anniversary, is organised by the Army and involves teams of 14 to 20 year olds enduring a two-day hike of up to 55 miles (88km) across Dartmoor.
The youngsters must carry their kit, cook for themselves and use survival and navigational skills.
The hearing continues.