Undertakers in South West find 'dead' patient breathing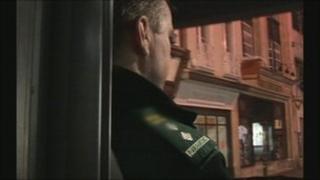 A man who paramedics in south-west England wrongly thought was dead was later found breathing by undertakers, it has been revealed.
The case, in 2008, was one of more than 60 Serious Untoward Incidents (SUIs) recorded by the South Western Ambulance Service between 2007 and 2009.
After the undertakers found signs of life in the man, paramedics returned to take him for treatment.
The service said such SUIs were a small proportion of incidents it attended.
The crew was called to the patient in November 2008 after police entered the man's house following reports he had not been seen for four days.
Paramedics found no palpable pulse or signs of respiration and left, leaving police to contact the coroner, the service said.
Officers then left the scene before the undertakers arrived.
But, on moving him, the undertakers found the man breathing and an ambulance was called.
Although paramedics cannot certify death, they can decide not to administer treatment because they believe a patient is dead.
The crew did not administer treatment at first because of their original findings, the service said.
In another case in May 2009, a patient with severe chest pains was allowed to walk unaided up two flights of stairs. He died later in an ambulance.
CCTV of the incident appeared to show the ambulance crew carrying out no checks on him.
The cases were two of 62 SUIs between 2007 and 2009 listed in information from the service - which covers Cornwall and Isles of Scilly, Devon, Dorset and Somerset - obtained under the Freedom of Information Act.
Of those, 20 were recorded in 2007, with 29 in 2008 and 13 in 2009.
'Culture of openness'
An SUI is defined as an accident or incident when a patient, member of staff or member of the public suffers serious injury, major permanent harm or unexpected death or the risk of death or injury.
They can occur on health service premises, premises where health care is provided and where actions of health staff are likely to cause public concern.
Thirty-four were blamed on human error, including nine cases of wrong diagnosis.
Twenty-three incidents were blamed on equipment failure, including one case in 2008 where an out-of-hours doctor discovered there were battery problems in equipment he was about to use to resuscitate a cardiac arrest patient.
Dr Andy Smith, medical director of the service, said: "When you look at these incidents, it works out at roughly less than three per 100,000 call-outs."
He added that the service had a culture of openness and staff were encouraged to report any incidents immediately "so we can investigate... and learn lessons".
Alan Lofthouse, from the union Unison, added that crews were honest when things went wrong.
He said: "We're open to scrutiny from the public, we are all professional and we are all accountable."