Rifles parade in Plymouth after Afghanistan tour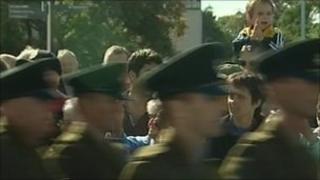 Soldiers from The Rifles regiment have been welcomed back to Devon by thousands of well-wishers.
Large crowds turned out in Plymouth to greet the Exeter-based regiment, which was formally awarded the Freedom of the City.
Hundreds of soldiers, along with a band and standard bearers, marched through the city in full military dress.
Many have recently returned from active service in Afghanistan.
The Rifles was formed in 2007 when a number of regiments, including the Devonshire and Dorset Regiment, were amalgamated.
Maj Don Jellard, secretary of the Rifles' county office, said: "Plymouth has always had a proud tradition of supporting the armed forces and we are delighted that the city is granting this civic honour.
"The Devon and Dorsets always recruited from the Plymouth area and this tradition lives on in both regular and Territorial Army battalions. We are proud to have the Freedom of the City."