Afghanistan bravery honour for Devon soldiers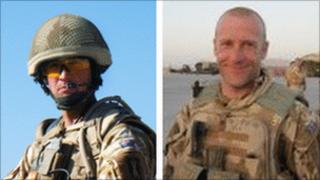 Two Devon soldiers have been honoured for their bravery in Afghanistan.
Colour Sgt Paul Baines, 35, from Torquay, has been awarded the Military Cross for gallantry shown by risking his life to save others.
Oxford-based Warrant Officer Andrew Goodwin, 33, of Okehampton, was awarded the Queen's Commendation for Bravery for defusing six bombs in two days.
The men are among 131 service personnel to be honoured for acts of bravery in the latest Operational Awards List.
Colour Sgt Baines, of 1st Battalion The Coldstream Guards, was providing cover as his patrol was moving towards a Taliban stronghold when an explosion critically injured one of the soldiers.
He left his post and helped carrying the injured soldier when a larger bomb exploded and he was blown off his feet and injured by shrapnel.
Under fire
However, he continued to assist the casualty while under enemy fire and carried him to a waiting helicopter where he declined evacuation and returned to help provide further cover for his patrol.
WO Goodwin, of 11 EOD Regiment Royal Logistic Corps, received the Queen's Commendation for Bravery following a two-day battle in Helmand Province in which his team came under heavy fire and he defused six improvised explosive devices (IEDs).
The QCB is awarded for specific acts of bravery during active service.
WO Goodwin said: "It means a lot to me and my wife. It is an honour."
Describing the two-day incident, WO Goodwin said: "We received quite heavy contact and were having problems with evacuations so we had to crack on and get the job done while receiving some quite heavy incoming fire.
"After that we had to move down south and deal with another couple of IEDs and then the very next morning the convoy we were in received a contact explosion from an IED."
WO Goodwin said that as part of the clearance following the explosion his team had to rescue police personnel and dispose of "a load of IEDs".
He said that it was nice to be honoured for the work he had done but he was "ready to go again".