Devon woman to sue council over unsightly wheelie bin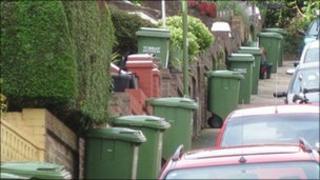 A Devon woman is planning to sue her council because she believes its bins are lowering the value of her home.
Judie Chisholm, 57, from Paignton, has written to Torbay Council's legal department claiming she will be seeking £5,000 compensation.
She says a council decision to swap her recycling sack with a wheelie bin has affected her home's appeal.
Torbay Council said it had received a letter from a resident which had been passed to its claims team to consider.
'Bin city'
Miss Chisholm's home has steps leading up to the front door which she claims means the bins have to stay on the street.
In her letter to the authority, she said the new bin had "wrecked all kerb appeal in one fell swoop".
She wrote: "It would be bad enough if these bins were only on display one day a week, but wheelie bins are having to be stored permanently on pavements where there is no other option...
"I also strongly object to the area in general being turned from a beautiful tourist attraction into a slum like Bin City," she added.
Miss Chisholm has now threatened to saw up her large bin, put it in her car and dump it on the steps of the Town Hall if it is not collected.