ELO hay bale death cellist Mike Edwards buried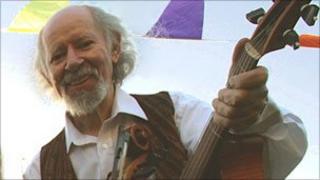 Mourners have paid their respects to a former member of 1970s rock group Electric Light Orchestra who died when a hay bale crushed his van.
Mike Edwards, of Totnes, was driving along the A381 in Devon on 3 September when a 600kg bale fell off a tractor on a farm and rolled on to the road.
The 62-year-old cellist, who was in ELO from 1972 to 1975, died instantly.
Mr Edwards' funeral was held at Rattery village hall at 1400 BST and he was buried in a nearby woodland cemetery.
The Health and Safety Executive is continuing to investigate the incident, which has been described as a "farm accident".
It is believed the musician, who was a founder member of the classical Devon Baroque orchestra, swerved into another vehicle as his van was struck by the bale.
'Real gentleman'
Over the past fortnight a number of friends, relatives and fans have paid tribute to Mr Edwards, who has been described as a "brilliant musician" and "simply the nicest guy".
Angus Gordon, chairman of Devon Baroque, said: "He was a really likeable person and such good fun."
Jeff Lynn, who co-founded ELO in 1971 with Roy Wood, paid tribute to Mr Edwards on the website Face The Music.
"Mike Edwards was unlike your average balaclava wearing cellist in a rock group," he said.
"He was a very good natured chap who mixed politeness and reserve with wild and wacky stage performances.
"Even though he left the group over 35 years ago I occasionally think about him on stage in his woollen balaclava playing his cello solo with an orange. Now that was pretty original.
"Mike was a great cellist but most of all a real gentleman."
ELO, which played rock and pop music with classical overtones, sold more than 50 million records worldwide and had numerous hit singles and albums in the UK and the US.
Mr Edwards, who trained at the Royal Academy of Music, was in the line-up for the group's first live concert.