Devon firm Supacat loses £100m army vehicle bid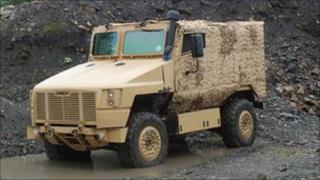 An east Devon manufacturer has lost a £100m bid to supply the army with a new vehicle.
The Ministry of Defence (MoD) wanted a vehicle to replace the so-called Snatch Land Rover which is vulnerable to land mines.
Dunkeswell-based Supacat, which was on a shortlist of two, had been hoping to supply 200 of its SPV400 vehicles.
Instead, the preferred bidder has been named as Supacat's American-backed rival, Force Protection Europe.
Nick Ames, managing director of Supacat, said: "We are very disappointed by the decision.
"The SPV400 is a world-class vehicle."
After years of investment in the project, Supacat's hopes had been high against the vehicle of Leamington Spa-based Force Protection Europe.
But Mr Ames said the firm had had interest from other armed forces.
"We will be continuing to pursue international commercial opportunities for this world-leading vehicle technology."
Chief of Defence Materiel, Gen Sir Kevin O'Donoghue, said: "When it comes to vehicle technology, it is clear from this competition that British engineering is leading the way.
"Both proposed solutions reflect the significant progress made in the development of a new generation of small yet highly-protected vehicles."
In July Supacat won a £45m MoD contract to supply more than 140 Jackal military vehicles to troops in Afghanistan.
The Jackal is built at Plymouth's Devonport Dockyard in partnership with Babcock.