Funeral of WWII spy Eileen Nearne takes place in Devon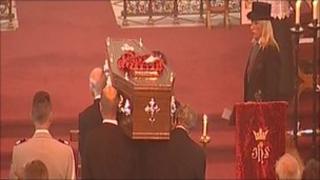 Crowds of people have paid their respects to World War II heroine Eileen Nearne during her funeral in Devon.
Mourners lined the streets of Torquay for the funeral of Miss Nearne, whose daring wartime spy work came to light following her death on 2 September.
The 89-year-old died in her home in the resort after suffering a heart attack.
Representatives of the armed forces attended the service at Our Lady Help of Christians and St Denis Roman Catholic Church.
The service was concluded with the last post being played by a French bugler.
As a young woman Miss Nearne was recruited by the Special Operations Executive and was captured by the Nazis in France but never talked about it.
Miss Nearne did not appear to have any known relatives when she died and the local council entered her flat a few days later so that funeral arrangements could be made.
Captured three times
A search for documents that might help locate her family instead yielded a treasure trove of medals and papers.
These revealed the life of a woman once known as Agent Rose who defied the Nazis as a wireless operator in occupied France.
The fluent French speaker was captured three times by the Germans and endured spells in concentration camps, managing to escape each time.
She was due to have a council funeral but these plans changed as a result of the publicity about her past.
Military charities donated cash and a local funeral director offered to fund a service more befitting a war heroine.
Miss Nearne's niece, who has since been traced but said she wished to remain anonymous, said: "I would like to thank everyone for their kind wishes and support at this very sad time.
"My aunt Eileen was a very private and modest person and without doubt she would be astounded by all the public and media attention.
"I hope that in death, she will be remembered along with other SOE Agents with pride and gratitude for the work they did both here and behind enemy lines during the Second World War."