Teacher knows 'no reason' for pupil abuse allegations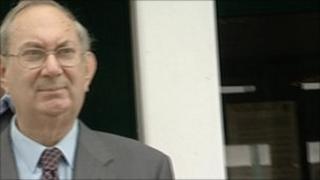 A former primary school teacher has said he can think of "no reason" why his ex-pupils have made allegations of indecent assault against him.
Canon James Wilson, 62, of The Rectory, Calstock, denies 16 charges of sexual assault against boys and girls.
His pupils allege that he stroked their legs during reading lessons.
Canon Wilson told Plymouth Crown Court that 30 years ago physical contact with pupils was not discouraged if they were upset or sought encouragement.
The charges against the Church of England Canon relate to when he was teaching in Plymouth 30 years ago.
A former pupil told police her memory was triggered while watching a TV item about abuse by clerics.
She then contacted others who were at the school through Facebook, who said they had similar experiences.
The former pupils told Plymouth Crown Court that they had not reported the assaults at the time because they had been scared they would not be believed.
Canon Wilson also denies entering the boys changing rooms after swimming lessons to help them dry themselves.
The assaults are alleged to have happened between 1974 and 1981 against seven girls and four boys aged six to nine.
Canon Wilson was a lay reader in the Church of England at the time of the allegations.
The case continues.