Plymouth-based airline Air Southwest sold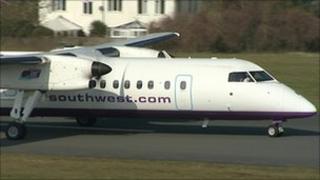 Plymouth-based airline Air Southwest has been sold to Eastern Airways.
Air Southwest employs about 150 people and flies to UK regional airports as well as the Republic of Ireland and the Channel Islands.
Owner Sutton Harbour Holdings made the decision to sell in May after the airline's operating profits fell by £600,000.
Air Southwest will continue to fly under its existing brand and staff will be employed by Air Southwest .
The airline was created in 2003 when British Airways withdrew flights to the South West.
Humberside-based Eastern Airways employs 420 staff and operates a fleet of 30 aircraft serving 21 destinations in the UK, Ireland, Norway and France.
Nigel Godefroy, chief executive of the Sutton Harbour Group, said: "Being part of a larger airline will bring stability to Air Southwest and that is good news for air travel to and from the far South West, and for Plymouth and Newquay airports."
Richard Lake, managing director of Eastern Airways, said: "Air Southwest is well regarded by its customers and we want to ensure we retain that loyalty by continuing to offer excellent service and value for money."