Surf museum finds permanent home in Braunton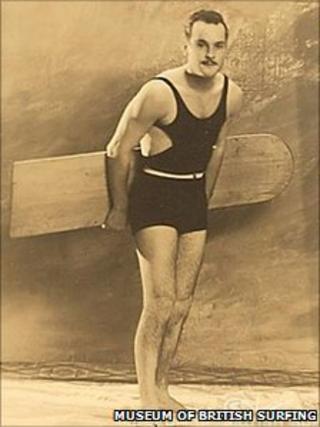 A permanent surfing museum will be built in north Devon after premises and backing were secured.
Since its creation seven years ago, the British Surf Museum has been touring the UK.
Founder Peter Robinson, 48, has now secured a £250,000 funding package to create the museum in Braunton.
It will feature surfboards and memorabilia tracing more than two centuries of the nation's involvement with the sport.
Mr Robinson said he hopes to have the museum open by the end of May next year.
The museum is a registered charity and many of its key items have been donated by British surfers.
It currently has a collection of about 200 boards, the oldest of which dates back to 1920.
Based at The Yard in Braunton village centre, the museum will share part of the site with the local youth service and collaborate with it on projects.
Mr Robinson said: "We want to change people's perception of what a museum is, with fresh and vibrant exhibitions each year, touring shows and working with schools.
"There will also be a community space where we'll have acoustic music, film, club meetings and special events.
"We have waited a long time for this to come together and the trustees of the charity and I are thrilled."
Mr Robinson's plan is to create a new exhibition each year at Braunton which will then go on tour around the country.
"It means we can always offer something fresh and exciting, as well as delivering our environmental and educational aims," he said.
The main funding for the museum has been awarded by the Leader 4 programme, which supports projects in Torridge and North Devon.
Its aim is to improve the economy, environment and quality of life in rural areas.
'Significant attraction'
Leader 4 chairman Viv Gale said: "Past evidence from the Leader programme showed the great economic and social benefit surfing brings to northern Devon.
"We see the museum as an innovative extension of this benefit and look forward to it becoming a significant tourist attraction."
The charity plans to create a carbon-neutral building to reflect its aim to preserve the environment.
Mr Robinson said with surfing contributing more than £52m to north Devon's economy, the location of the museum was very important.
"The area is the surf gateway to the South West and Braunton acts as a hub for the industry and is itself the gateway to the main surfing beaches," he added.