Funding for Barnstaple rural rough sleeping project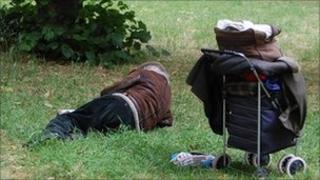 A joint project to reduce rough sleeping and homelessness in north Devon has been awarded government funding.
Barnstaple Poverty Action Group (BPAG), working with Torridge District Council, was awarded £40,000 by the Department of Communities and Local Government.
It will be used to employ a full-time worker for 12 months.
BPAG has also been given £100,000 for a three-year project to tackle rough sleeping in rural areas.
"This funding is a huge step forward," BPAG manager Phil Davey told BBC News.
"It will allow us to get a real understanding of the size of the problem in rural areas."
Mr Davey said there had been no rough sleeping headcount carried out in the area since 2001.
"In the absence of any accurate or up-to-date information about rough sleeping, it would be extremely difficult to formulate an effective response to the problem.
"After all, you cannot manage and resolve a problem that you are unable to map and measure."
In 2008 and 2009 BPAG commissioned surveys to identify the number of people in the Torridge area who were rough sleeping or in danger of rough sleeping, but much of the work focused on the more urban areas of Bideford and Torrington.
In both surveys, 29 rough sleepers were identified.
Mr Davey said: "The problem exists in rural areas, but you'll get people sleeping rough in woods, fields, and farmers' barns and they're a lot harder to count."
BPAG said a substantial and sustained piece of work will be required to fully understand the problem in the more rural areas.