Niece pays tribute to WWII heroine who died in Devon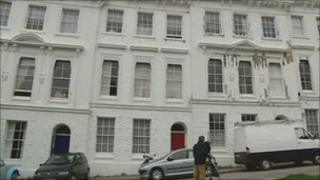 The niece of a war heroine captured by the Nazis has paid tribute to her "highly courageous" aunt.
Eileen Nearne, 89, died in her Devon home on 2 September. Torbay Council is arranging the funeral because no family could initially be traced.
Her niece, who wants to remain anonymous, said of her aunt: "She was always cherished by the family."
Ms Nearne was sent to occupied France as a member of the Special Operations Executive (SOE) during World War II.
Her niece said: "I am very sad to hear of my aunt's death as I admired her greatly.
'Silent heroine'
"Although I don't live in the UK, I was very close to Aunt Eileen and visited her often.
"I am very touched to hear that the Royal British Legion and the Armed Forces are keen to honour my aunt's significant contribution to the war effort.
"Aunt Eileen was extremely modest and highly courageous, having been tortured by the Gestapo during the war."
Ms Nearne, who was fluent in French, was captured three times by the Germans and endured spells in concentration camps, managing to escape each time.
She was found dead at her home in Lisburne Square, off Babbacombe Road.
Funeral service
Professor Michael Foot, who wrote a book about SOEs, described Miss Nearne as "a real heroine, although a silent one".
He said: "She primarily arranged drops of arms from London to resistors in eastern Paris and around Lille where they made the French rail network practically unusable by the Germans during the fighting in Normandy."
Torbay Council said that Drakes of Torbay Funeral Service would continue organising the funeral.
Drakes said the service was due to take place at 1500 BST on Tuesday 21 September at Our Lady Help of Christians and St Denis Roman Catholic Church in St Marychurch, Torquay.
The Royal British Legion said members of its organisation would attend.