Sword Beach service for Scots D-Day piper Bill Millin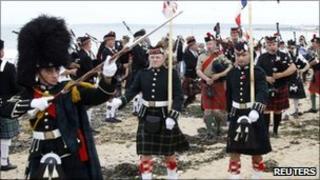 A service has been held to honour a Scottish piper who played men into battle during World War II.
More than 200 people, including several pipe bands, gathered near the spot where Glaswegian Bill Millin came ashore at Sword Beach on 6 June 1944.
Mr Millin, who died in Devon last month aged 88, was ordered to pipe his comrades ashore by his commanding officer Lord Lovat.
The unarmed piper marched up and down the beach playing Hieland Laddie.
He continued to play as his friends fell around him and later moved inland to pipe the troops to Pegasus Bridge.
His bagpipes, which were silenced four days later by a piece of shrapnel, were handed over to the National War Museum of Scotland in 2001, along with his kilt, commando beret and knife.
The brave commando's actions were later immortalised in the film The Longest Day.
In 2006 Mr Millin told BBC Devon he had not noticed being shot at.
"When you're young you do things you wouldn't dream of doing when you're older," he said.
Walking among the wounded on the beach made Mr Millin feel "helpless", he said, but for others his music boosted morale at a critical time.
Ken Sturdy, 90, chairman of the Torbay and South Devon branch of the Normandy Veterans Association, served with the Royal Navy and heard Mr Millin's bagpipes when he landed on the beach that day.
"Among all the noise and bedlam going on I could hear bagpipes," Mr Sturdy said.
"I thought I had imagined them and it wasn't until later that I realised I really had heard them.
"It was certainly heroic. People were dying around him and he was in the most alarming situation so he must have been a very cool young fellow."
Mr Millin returned to France on numerous occasions to pay his respects to his fallen comrades.
He died on 18 August in Torbay Hospital, having lived at a nursing home in Dawlish since suffering a major stroke seven years ago.
At the memorial service in France the pipe bands played Amazing Grace as members of Colleville-Montgomery town council and local people threw flowers into the water where Mr Millin and his comrades came ashore.
The ceremony ended with the bands marching away to Scotland The Brave.
One of the organisers, Serge Athenour, from the D-Day Piper Bill Millin Association, said: "When I was seven I saw The Longest Day and I wanted to be the Bill Millin of the future.
"It was a great honour to meet him several times."
Mr Athenour, who also plays the bagpipes, is helping to raise money for a £75,000 bronze statue of Mr Millin to be erected near to where he came ashore.
"He is an iconic figure that represents all the soldiers, so people who want to pay tribute to all those men can contribute," he said.
"We hope the statue will become a central tribute for people in the future as the soldiers will not be here soon."