Spielberg film War Horse moves Marines' Dartmoor march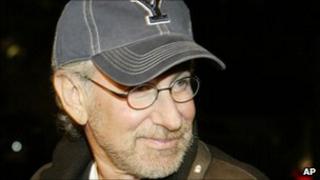 An annual charity "yomp" across Dartmoor has been re-routed because of a Hollywood film.
Disabled servicemen join able-bodied former and serving Royal Marines to trek 12 miles (19km) on Dartmoor to raise money for other injured comrades.
However, this year part of the Devon moor has been sectioned off to the public as director Steven Spielberg is filming WWI movie War Horse.
Organiser Yorkie Malone said the small diversion had been sorted amicably.
The 65-year-old former marine and Falklands veteran said: "It's easy for us to change our route - anyone who knows Dartmoor knows most of it is completely empty.
"All it means is keeping out of camera shot. We'll use the road instead of going cross country.
"Basically, instead of the scenic route we're taking a direct one."
Spielberg's multimillion-dollar film War Horse is based on the 1982 novel by north Devon author Michael Morpurgo.
Set in World War I, it tells the story of a young farmhand who braves the trenches in an effort to bring his cherished horse Joey home after it is sold to the cavalry and sent to France.
The Oscar winning director began location filming on Dartmoor in August. The film is due to be released in August 2011.
The West End theatre production of Morpurgo's novel has been critically acclaimed and won several awards.
It is the third year the Dartmoor Yomp has taken place. This year the proceeds will go to The Royal Marines Charitable Trust Fund.
About 200 people, aged between eight and 75, set off from 42 Commando's Bickleigh Barracks at 0930 BST on the yomp to Princetown.
Mr Malone said: "We have some blokes with prosthetic limbs while others who are blind will be accompanied by their carers.
"They come from all over the country, as well as Spain, the Outer Hebrides, Falkland Islands and even Cornwall.
It is hoped the event will raise £10,000.