Efforts to secure drifting 600-tonne River Taw vessel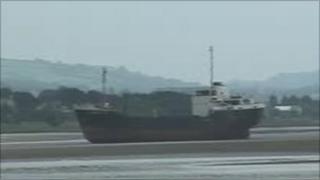 Efforts are being made to secure a 600-tonne vessel which is drifting on the River Taw in Devon.
The Seven Sands started moving on Thursday night on the spring tide at Fremington, where it had been moored.
There are fears it could run into other vessels or hit a nearby road bridge. It is not thought the vessel is an immediate pollution risk.
A statement from Devon County Council said it hoped the vessel would be towed to safety on Saturday.
High tide
Devon County Council, North Devon Council, the Maritime and Coastguard Agency, Bideford Harbour Authority and the Environment Agency are all involved with the recovery of the vessel.
A joint statement said: "A decision has been taken to attempt to try to tow the stricken Severn Sands to a safe location at the first possible opportunity on the high tide at 0830 BST in the morning.
"A tug will be used to capture and secure the vessel before attempting to tow it downstream and away from danger to Yelland Key or other suitable location."
Emergency services including the police, coastguard and Appledore inshore lifeboat will monitor the vessel overnight.