Labour success in Exeter City Council by-elections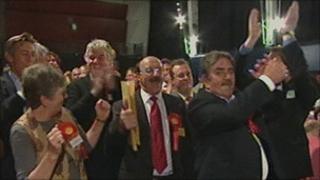 Labour has become the largest party on Exeter City Council after winning more than half the 13 seats available in Thursday's by-elections.
Labour won seven seats, including gains in the Cowick and Pinhoe wards.
The Liberal Democrats, who had controlled the council, lost one of the three seats they were defending.
The Conservatives made two gains but also lost two seats. The voter turnout was 28% and brought the council back to its full complement of 40 councillors.
Labour now has 15 seats, the Liberal Democrats and the Conservatives both have 11 each and the Liberals have 3 seats.
Although no party has an overall majority, Labour is expected to take control.
The decision on which party will run Exeter City Council will be taken at a full council meeting on 21 September.
Another set of by-elections for 13 different seats will take place next May.
The latest by-elections were held after the High Court upheld a decision by the new government not to allow the city unitary status.
Exeter and Norwich were granted unitary status by the previous Labour administration in February.
However, a High Court judge said it had ignored criteria such as value for money to allow the change and ruled the by-elections must take place to maintain legality.