Scuba diver finds WWII German mine off Drake Island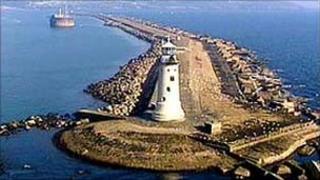 A German mine from World War II was found off the Plymouth coast near Drake Island by a scuba diver.
The diver spotted the bomb about 20m underwater along a navigation lane used for shipping on Tuesday.
The explosive ordinance team from the Royal Navy moved the mine outside Plymouth breakwater to detonate it.
Lieutenant Commander Richard Talbot said the mine remained a threat and "contained about 21 kg or 45 pounds of explosive."
The mine, which was more than 60 years old, was encrusted with marine life and rust.