Devon estate considers valley flooding retreat plan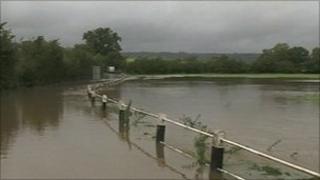 An east Devon estate may have to make a managed retreat from some land because of future rising water levels, it says.
Landowner Clinton Devon Estates said it was considering the action in the Lower Otter Valley after a report examined possible climate change effects.
The report it commissioned said sea level rises, more storm surges and increased rainfall were all expected to increase risks of flooding.
The estate said it would discuss changes with other involved parties.
The valley, parts of which are next to the sea, regularly floods.
East Devon District Council clears nearby culverts regularly to prevent flooding, but if sea levels did rise in the coming years the estate said it was expected to become more difficult.
One of the estate's stakeholders, Budleigh Salterton Cricket Club, sits on the flood plain. One option as part of a managed retreat may be to move it to higher ground. The club said it was not keen to move unless necessary.
John Varley, of the estate, said the landowner had "an interest in getting the right solution for the next 50 or 60 years".
He said: "We commissioned the report because the flood risk from upstream flooding, and from the sea breaching banks, will have a dramatic impact on a range of stakeholders, from the cricket club, to the sewage works, to footpaths, to farmland."
Clinton Devon Estates said it would discuss the report's findings with the Environment Agency and East Devon District Council.