Exmouth soldier's father abandons MoD legal action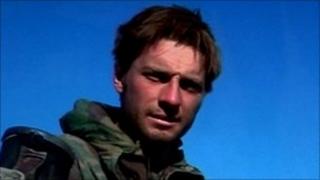 The father of a Devon soldier killed in Afghanistan has abandoned his plan to sue the Ministry of Defence.
Trooper Jack Sadler died when his vehicle hit a landmine in Helmand Province in December 2007.
Ian Sadler, of Exmouth, said if he tried to sue the MoD for not providing proper equipment, court costs could bankrupt him.
The MoD said the Supreme Court had ruled the Human Rights Act did not apply on the battlefield.
An MoD spokesperson said previous cases had shown it was not possible to claim under human rights law for personal loss or injury resulting from a war.
'Combat immunity'
"It's a legal argument, not a moral argument," Mr Sadler told BBC News.
"If I took the case to court, I could end up having to pay the Ministry of Defence's costs plus my own costs, which could come to £200,000," Mr Sadler told BBC News.
"They're trying also to say they will have it struck out through what they call 'combat immunity' - so what they're saying is because it's a war the Ministry of Defence is not responsible."
Mr Sadler said he had been told by a solicitor that he would probably win "in the court of public opinion", but in a court of law the Ministry of Defence "had all the angles".
Following Trooper Sadler's inquest in July 2009, Darren Salter, deputy coroner for Exeter and greater Devon, wrote to the MoD raising his concerns about the use of light patrol vehicles.
He recorded a verdict of unlawful killing, but said the MoD had not been negligent.
Last December, Mr Sadler - a former serviceman - criticised the government after "an administrative error" resulted in a condolence letter being sent to him two years late.