Victim's daughter furious as killer reoffends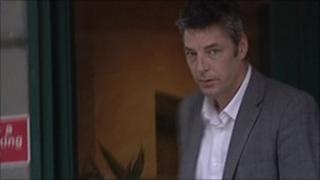 The daughter of a postman who was killed by a psychiatric patient eight years ago has said she is horrified the killer has committed further offences.
John Peters killed 60-year-old Roy Warnes, of Plymouth, in May 2002.
On Monday, Peters, 42, from Southway in Plymouth, pleaded guilty at the city's crown court to possessing amphetamine with intent to supply.
NHS Plymouth, which runs mental health services in the city, said it was not responsible for his criminal actions.
Peters had been using amphetamines before he killed Mr Warnes, who lived in a neighbouring flat.
The 42-year-old, who had been diagnosed with mental health issues and prescribed medication, admitted manslaughter on the grounds of diminished responsibility.
An investigation two years later found Mr Warnes' death could have been prevented if Peters had had more help from the mental health services.
After his conviction, Peters spent two years at a medium security psychiatric unit in Dawlish before moving to a low security hospital near Plymouth.
He was released into the community in 2005 but kept under NHS supervision.
Plymouth Crown Court heard on Monday that he was under the ongoing care of the psychiatric services. His case was adjourned for four weeks for a pre-sentence report and he was granted bail.
'Hands on drugs'
Mr Warnes' daughter said if Peters had been adequately supervised by mental health services it would not have been possible for him to offend again.
Ms Bellamy said: "I was absolutely shocked and horrified when I heard he had been arrested.
"I just feel they have not looked after him again.
"He's got his hands on some drugs and it's all leading back to what happened eight years ago."
She added: "I really think they are not doing their jobs properly. They have let my family down and my dad would be turning in his grave."
Dr Simon Payne, medical director for NHS Plymouth, said Peters had been subject to "regular and close monitoring" since 2005.
He said: "There is no suggestion that recent events are in any way linked to the care and treatment he has received from the mental health service.
"Although we monitor and maintain our service users in the community, we cannot be responsible for criminal behaviour that is not linked to an individual's mental health."
He added: "Mr Warnes' death was a terrible loss for his family and friends and we are committed to doing all we can to make our mental health services as safe as possible."