Big waves warning to Devon and Cornwall beachgoers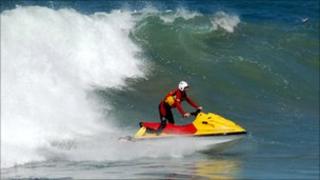 Large surf and strong offshore winds on the north Devon and Cornwall coasts have prompted a safety warning.
Lifeguards pulled more than 200 people to safety after body boarders and surfers became overwhelmed by the conditions on Thursday.
The RNLI is urging inexperienced water users to stay within their depth and between the safety flags.
Many surfers have been lulled into a false sense of security because of the long gaps between the large waves.
Matt Johnson, RNLI lifeguard supervisor at Perranporth beach, said: "The surf was easily pushing 5ft (1.5m), which is pretty big, especially if you are just learning.
"But people were taking advantage of the long flat spells between the sets to paddle out and didn't have the power to cope with the powerful surf when it came through.
"The offshore wind, which was gusting about 4 knots, was also pushing the body boarders further out than they'd rather be, so they too were getting caught in the middle of some big waves."