Devon faces up to spending review cuts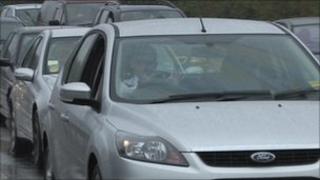 Councils in Devon are preparing for what could be deep cuts in public spending.
The government's comprehensive spending review will affect every part of the county but the ability to deal with those cuts is likely to vary from area to area.
Research, carried out for the BBC by Experian, indicates South Hams is the most resilient.
Torbay is likely to be one of the areas least able to cope with the cuts.
Torbay Council said in March it feared it could face budget cuts of up to 25% over the next few years, which could result in 200 job losses.
Some fear the spending squeeze could lead to the long-awaited Kingskerswell bypass plan being abandoned.
James Cross, chairman of Torquay Chamber of Commerce, said: "I think in the light of the austerity measures which we are currently facing, it (the bypass) won't happen.
"It's an easy one to say no to and that's what will happen."
He said communication links were "vital" to the economy of the area.
"It's extremely frustrating.
"To be as close as we believed we were in terms of the project to finally put in place a link road and to have it seemingly taken away is devastating."
Despite its popularity as a tourist destination, Torbay has the highest proportion of people claiming benefits, a poor school attainment rate and one of the lowest life expectancies in the South West.
Whatever measures the chancellor announces next month to tackle the national debt, people in Torbay know there will be a struggle ahead.
South Hams is highlighted in the Experian study as one of Devon's most resilient areas because of its entrepreneurial spirit.
As a result, the recession and economic downturn left the area relatively unscathed.
But the squeeze on public spending could have a far greater effect on the area, according to Michael Cozens, former economic development officer with South Hams District Council.
About 20% of employees in the local authority area are public service workers, particularly in health, social services, education and administration.
"The public sector will really be hit between the eyes," said Mr Cozens.
"I see things getting incredibly tough and I am not sure if the South Hams can absorb it."
Mr Cozens is already a victim of cutbacks at the council - he lost his job in August.
He said: "In this area there is a high proportion of people that get their wages from the public purse.
"That's an awful lot of people that are going to lose their jobs.
"There are about 450 employed at South Hams District Council so up to 75 jobs could go."
The report says South Hams has lots of resilient sectors and one of the highest concentrations of self-employment in the country demonstrating, in the report's words, an "entrepreneurial spirit".
It has low insolvency rates, although there have been a number of victims in recent months, including Auto Trader in Totnes which closed in August with the loss of 52 jobs.
Mr Cozens said South Hams, which has about 5,500 small businesses, attracted entrepreneurs.
"It attracts people with a high level of qualifications because it is an an attractive place to live and work.
"People come down with resources and bright ideas and knowledge and wherewithal to follow them through."
Broadcaster Nick Ross will be presenting an exclusive, special one-off programme on Radio Devon and Radio Cornwall to examine the impact of the cuts in public spending in the South West.
He will be hearing from politicians, business leaders and public service workers about the impact of unprecedented cuts in public spending.