Derriford Hospital low on broken hip surgery list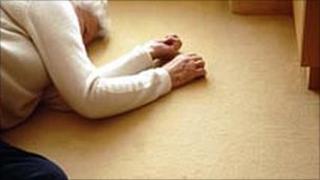 Derriford Hospital is one of the bottom three hospitals in an audit of surgery waiting times for elderly patients with broken hips.
The Royal College of Surgeons said the Plymouth hospital got only 57% of 426 patients in their 70s, 80s and 90s through surgery within 48 hours.
The annual audit of hospitals in England, Wales and Northern Ireland covered April 2009 to March 2010.
Derriford said there had been a marked improvement since the audit.
Derriford Hospital's surgery figures contrasted with the best such as Wansbeck Hospital in Northumbria which got 95% of elderly patients through surgery in 48 hours.
Colin Currie, a consultant geriatrician who helped compile the data, said there was "no excuse" for the poor care being seen in some hospitals.
A Plymouth Hospitals NHS Trust spokesperson said: "Between April and June 2010, 77% of our patients with hip fractures received their operation within 48 hours. This is a marked improvement on last year.
"In July and August 2010, 84% and 85% of patients received their surgery within 48 hours.
"We have increased the number of staff dedicated to the care of patients with hip fractures, which includes consultants and specialised physiotherapists."