Plymouth Goth's dog lead hanging death an accident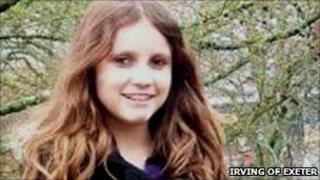 A teenage Goth's experiment to feel the sensation of being reborn went "tragically" wrong and resulted in her death, a coroner has ruled.
Sian Jones, 13, was found by her mother and sister hanging by a dog lead from the front door of their flat on Plymouth Hoe in June, an inquest heard.
Police who investigated the death said bullying issues at Stoke Damerel college were not a factor in her death.
Plymouth Coroner Ian Arrow recorded a verdict of accidental death.
The inquest was told Sian, a Goth, had encountered some problems with other girls at the community college.
Acting Insp Barry Walter told the coroner these issues were a "red herring" and bullying had not played a part in her death.
He said the school had dealt with those problems "appropriately" and, although e-mails did reveal Sian's claims of being bullied, these had been "all sorted out" on the day before her death.
Mr Walter said Sian was a "happy little girl" - who could probably be described as "a Goth or Emo" - with a good group of friends.
Her mother and sister were closer and Sian missed her natural father, the inspector told the inquest.
He said Sian had been researching websites about the act of fainting - a "Goth belief" - where a person loses consciousness to feel the sensation of being reborn into a world without old problems.
"We believe she may have trying to experience what she had seen and it went tragically wrong," Mr Walter said.
'Acceptable explanation'
Family friend Ian Wilson, who attended the inquest on behalf of the family, said an assault on Sian had been reported to the school but it had failed to contact police to investigate the matter.
A short time later Sian e-mailed the school to say she was being bullied and was unhappy.
Mr Wilson said the family was not told Sian was having these problems.
He said the bullying was still an issue, with "threatening and derogatory" comments made on a social networking site after Sian's death.
Recording an accidental death verdict, Mr Arrow said: "She had the intention of fainting and was experimenting with that dog lead.
"It is an acceptable explanation of why it was around her neck in those circumstances.
"It must have been a very great shock for all of you when you returned home that night."