Father speaks of Devon rape attack victim's ordeal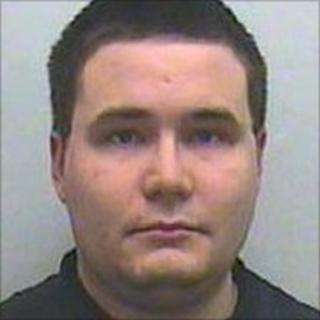 The father of a single mother who was raped and severely beaten in an attack in Devon has spoken of her ordeal.
The woman, who died in April at the age of 52, was left brain damaged and having to use a wheelchair following the attack in Exeter in 2006.
Jakub Tomczak, of Poland, was convicted of rape and grievous bodily harm with intent and given two life sentences.
The victim's father told BBC Crimewatch Solved said that she was "almost unrecognisable" after the attack.
She needed full-time carers as a result of her injuries and in a victim impact statement read out in court she said that she wished her attacker had killed her.
She had been walking home from a night out in the city with friends when she was attacked by Tomczak, now aged 26.
In coma
At his trial the jury heard that the Polish national had left her "for dead" - naked and unconscious - under a van in the Whipton area of Exeter.
He was traced after CCTV footage was shown on BBC Crimewatch.
In an interview to be aired on Crimewatch Solved at 2100 BST on Wednesday, the victim's father, who remains anonymous so as not to identify his daughter, said: "She was a terrible mess.
"The whole family was sat by her bedside at one time or another, basically 16 to 18 hours a day just trying to talk to her to get her to come round."
As well as brain damage, she had suffered a fractured skull in the attack and was left with no recollection of the attack and no short-term memory.
"You could ask her what happened 20 years ago and she'd give you a very graphic accurate description - ask her what you said to her 10 minutes ago and she couldn't remember what you said to her," he said.
"I could see her going downhill, it was a struggle just to keep her going for the last 18 months, two years.
"I still, every now and again, sit down and think about it and I find a tear coming to my eye.
"Many people seem to think that I am coping with it well but they should sometimes sit with me at night when I am on my own and then they would know the difference."