Opponents fight Devon sand quarrying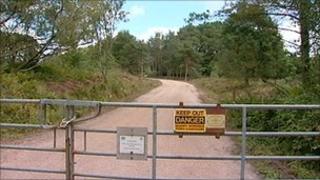 A campaign has been launched in east Devon against plans to re-open a quarry.
Aggregate Industries aims to begin extracting sand and gravel from its site on Venn Ottery Hill in the new year.
Local residents say it will have a devastating impact on wildlife, the landscape and their lives.
Aggregate Industries said the work would last four years and the area would be reinstated as heathland.
The quarry, last worked in the 1970s, is in an Area of Outstanding Natural Beauty.
Bob Butler who lives nearby, said: "This is one of the most scenically beautiful and wildlife rich areas of east Devon.
"The kind of activity planned will have a devastating impact on the quality and diversity of the natural environment."
Bird species including the Dartford warbler and nightjar, as well glow worms and dragonflies, were in danger, opponents claim.
John Penny, estates manager for Aggregate Industries, said: "We appreciate the short-term impact.
"But we are are looking to establish a 40-acre heathland site which we believe will be of great value to nature conservation.
"We shall be putting back a lot more than we're taking away."
Residents say excavations will have an "appalling effect" on the area which is used for walking, cycling and horse riding.
Aggregate Industries said lorries would be restricted to 70 deliveries a day between 0700 to 1800 Monday to Friday and on Saturday mornings.