About 80 people are rescued from the sea in Devon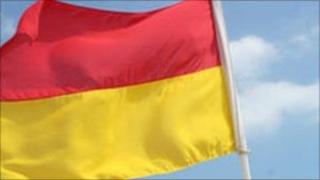 Dozens of bodyboarders and swimmers have been rescued by lifeguards in north Devon after being caught in a rip current.
A total of 40 people were enjoying the water and the sunshine in Woolacombe on Monday lunchtime when they became caught in the fast-flowing water.
The Inshore Rescue Boat picked up the bathers first and two RNLI lifeguards responded simultaneously on boards.
They paddled out and acted as floating platforms until the boat returned.
Robbie Lamb, RNLI lifeguard supervisor, said: "'We had a pretty unstable beach, with the rip currents moving around depending on the state of the tide.
"However, the lifeguards were extremely vigilant and moved the bathing flags in response to the changing conditions.
"As well as the mass rescue, we probably rescued another 40 people in separate incidents throughout the day.
"Thankfully no one was in serious trouble or hurt."
Conditions were similar on Croyde beach where lifeguards dealt with about 35 incidents throughout the day, with the majority involving bodyboarders and surfers struggling in the rips and big surf.
Vaughan Lawson, RNLI Area Lifeguard Manager for north Devon, said: "On Croyde there were easily 6,000 on the beach and at least 800 in the water at any one time.
"Unfortunately the size of the surf, which on some sets was about 6 foot, made conditions on both beaches challenging and the RNLI lifeguards were working hard all day to maintain safety in the water."
He added that the lifeguards were expecting a busy few days ahead because of the forecast for good weather and urged people to attend lifeguarded beaches.