Plymouth seafront water 'safe' after sewage discharge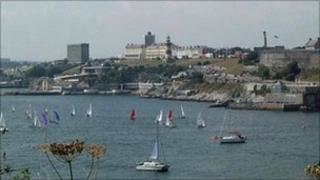 Swimmers and water users have been given the all clear to go in the water along Plymouth's seafront following a sewage spill in the River Plym.
Sewage leaked into the water on Thursday when well pumps suffered storm damage at South West Water's central waste water treatment works in Cattedown.
Initial tests showed increased health risks but water samples are now clear.
The water in the River Plym is also now safe to go in.
The Council, the Environment Agency, the Health Protection Agency and South West Water have been monitoring the situation over the weekend and taking samples.
Bank holiday woes
Andy Netherton, Plymouth City Council's Principal Environmental Health Officer, said: "Initial water samples identified very poor water quality immediately after the incident.
"Water quality has gradually improved over the weekend. We wanted to be on the safe side and are delighted that the tests mean that people can now go back in the water.
"We hope not too many people were inconvenienced by the warning.
"We were well aware that this was not an ideal situation on a Bank Holiday weekend but there is a risk to health if people come into contact with sewage."
Plymouth Central Waste Water Treatment Works is working at normal capacity again following recent storms damage.
South West Water said it will continue to work with Plymouth City Council, the Environment Agency and the Health Protection Agency to monitor the water quality.
Richard Gilpin, South West Water's Head of Waste Water Services, said: "We'd like to apologise to everyone affected by this incident.
"We will continue to monitor the performance of Plymouth Central Waste Water Treatment Works over the coming days and weeks, and will be doing everything we can to minimise the risk of this happening again."