Plymouth seafront water tested after sewage discharge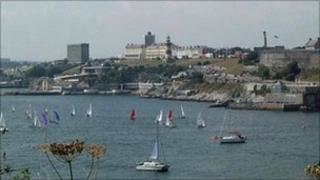 Tests are being carried out on water samples from Plymouth's seafront following a sewage spill, Plymouth City Council (PCC) says.
People have been warned not to swim in the sea off Plymouth over the bank holiday weekend following the spill from treatment works at Cattedown.
The council said people should not go into the water along the Hoe Foreshore or within the Breakwater.
The results of the analysis were expected on Saturday, PCC said.
The test and bathing ban follows the discharge from treatment works at Cattedown after pumps were damaged by storms earlier this week.
The council said screened sewage was discharged from an emergency overflow pipe into a river from South West Water's Plymouth central waste water treatment works.
It said it had implemented the ban, because there was still some discharge present in the Sound. Warning signs have been erected around the seafront.
The sewage was discharged after three of the four main pumps inside a 40m (131ft) well at the water works were damaged.
South West Water said urgent repairs were being carried out.
It said temporary replacement pumps and cables were being installed and that no sewage currently being discharged from an emergency overflow.