Barnstaple deaths suspect too ill for questioning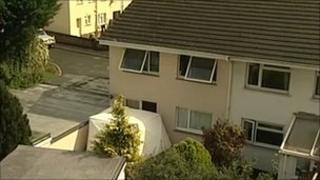 Police say they do not expect to be able to interview an injured suspect about the deaths of two women in north Devon until next week.
The stabbed bodies of Deborah Jones and Donna St John were found in a house in Fortmead Close, Barnstaple, following a fire at the property on Sunday.
A 40-year-old man was also found stabbed at the house.
He is under police guard in hospital in a serious but stable condition. He is not under arrest.
Officers believe Ms Jones and Ms St John, both aged 35, were killed in the kitchen of the rented property and the house was then set on fire.
The man was taken to North Devon District Hospital after he was found on Sunday.
Earlier reports said police hoped to speak to him before the end of the week, but Devon and Cornwall Police said that this was not now expected to happen.
The force said: "He is continually being assessed by medical staff, and, when in a position and well enough to be spoken to in relation to the incident at the weekend, detectives will do so.
"This may not be for a number of days."