Plymouth food charity 'running out of parcels'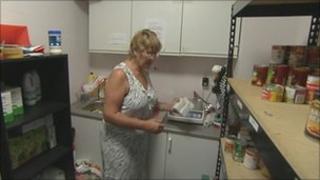 A Devon charity is facing not being able to offer as many food parcels because demand for its help has doubled over the last year.
Plymouth Foodbank said it was struggling to keep up after distributing nearly 2,000 parcels from donated food over the past 10 months.
Bags for individuals or families contain enough food for three days.
The group said it was now sometimes buying food instead because donations have fallen, stretching its resources.
The project, based at the city's Crown Centre, helps people who are homeless or in financial crisis by providing them with food.
Users of the service are only allowed to get parcels up to three times a year.
But managers said resources were running low because of a drop in donations, which is thought to be due to the economic crisis.
They added that buying food from supermarkets meant the stretch in resources resulted in not being able to help as many people.
Project manager Maria Mills said: "If we have more days like this, by Monday we'll probably only have enough to fill eight to 10 single-person bags, or three family bags, and then we'll be empty."