Devon quadriplegic's fears over care funding package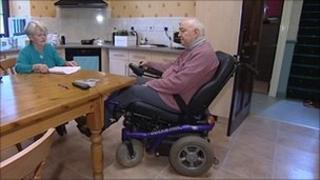 A year after a disabled man from Devon won the right to have his care funded by the NHS, he is still waiting for a suitable care package.
Alan Button, who lives in Halwill, near Beaworthy, has been paralysed since breaking his neck 40 years ago.
The 69-year-old fears he may be forced to go into a care home or hospital and has complained to the health ombudsman.
NHS Devon said it has offered a range of options and insists it is committed to finding a suitable care package.
Mr Button said he desperately wants to stay in his own home with his wife, so he has recruited a private care nurse to help.
She currently provides several hours of specialist support every day, but Mr Button says it is not enough and he has been "let down" by the NHS.
"I feel frustration, anger and just about every emotion you can go through," he told BBC News.
"We've jumped through no end of hoops to satisfy the criteria and still, after a year, we're no further forward.
"The thought of a care home is unbearable - I just couldn't contemplate it.
"I would lose everything we've fought so hard for over the past 40 years."
Luke Clements, a professor at Cardiff Law School, said Mr Button's situation was "troubling" and had certain similarities to Pamela Coughlan, who won a landmark court ruling 10 years ago to have her care funded by the NHS.
"There seems to have been a total loss of sight of the fact that Alan is person - not an object to be observed and measured," he said.
'Complex' needs
Ms Coughlan, who also lives in Devon, has offered her support to Mr Button.
"I find it very difficult to believe that the health authority hasn't been able to find carers for him after all this time," she said.
NHS Devon said it was still having discussions with Mr Button.
It has offered a range of temporary and longer-term options and remains committed to agreeing and funding the right care to meet Mr Button's quite complex needs, it added.