Exeter expanding fortnightly bin collections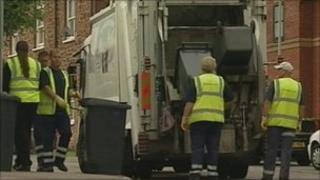 Another 14,000 households in Exeter are to move to fortnightly bin collections, the city council says.
Most of the city's 50,000 households are already on collections of household waste and recyclables on alternate weeks.
The council said the move, from September, would encourage recycling and save it more than £80,000 a year.
Some of the savings will come from refuse vehicles having to travel about 8,000 miles (13,000km) less a year.
Residents affected by the proposed changes have been sent letters outlining the proposals, the council said.
The council said that, with bi-weekly collections, people tended to think more about what they are putting in their bin and often realised that they could recycle more.
Last month, the government signalled it wanted to see the return of weekly bin collections across England.
Communities Secretary Eric Pickles accused the Audit Commission of being part of a "conspiracy" to kill off weekly collections in England.
The Audit Commission - which monitors local government spending - said it did not impose inflexible rules, it merely recommended cost-effective practices.
About 160 of the 386 English local authorities collect bins fortnightly.