Exeter insurance women jailed for flood fraud claims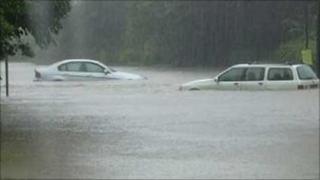 Two "greedy" Norwich Union staff who defrauded the insurance firm after the severe floods of 2007 have been jailed.
Linda Drake, 45, and Nicola Curry, 43, both from Exeter, exaggerated or made up claims and pocketed the cash, Exeter Crown Court was told.
Drake and her husband Alan, 41, admitted conspiracy to defraud and were jailed for 27 months. Curry was jailed for 12 months for the same offence.
The court heard they defrauded the firm of up to £500,000.
'High living'
The court heard Drake and Curry were claim handlers in Norwich Union's Exeter office where they were considered "trusted employees".
Drake used her builder husband to carry out flood damage repair work around the country - even though he was not on Norwich Union's list of accredited contractors.
The court was told Curry made more than £20,000 from the fraud but the Drakes got away with in excess of £200,000 in the scam, which went on from February till August 2007.
Judge Philip Wassall said the Drakes' motivation had been "one of greed" and Curry got involved when she saw the material benefits they were making.
Confiscation hearing
"It is impossible to quantify how much was lost to Norwich Union in either overpaid claims or for work that was never done," he said.
The court heard the Drakes used their dishonestly obtained cash for "high living", enjoying expensive foreign holidays and buying a property in Florida.
Curry spent her cash on a holiday, a party dress for her daughter and general living costs.
A confiscation hearing will be held later this year to try to retrieve some of the stolen money.
Norwich Union has since changed its name to Aviva.