Exeter-based Flybe plans to buy up to 140 new aircraft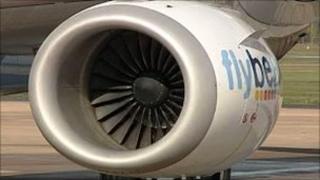 A Devon airline has a deal to buy up to 140 new aircraft totalling £3.3bn ($5bn) to expand its operations, it has said.
Exeter-based Flybe said it was definitely buying 35 new planes, with a price tag of about £1.3bn (£850m)
But it added that it may go further, with options on 65 more and purchase rights for another 40 after that.
The first jets, the 88-seater Embraer E175, were due to be delivered in September 2011, it said.
The company, which was formerly Jersey European, currently has about 70 aircraft operating on 180 domestic and European routes.
The firm said it wanted to grow its European business and that the aircraft would underpin those plans.