Camborne gives town freedom to Royal Horse Artillery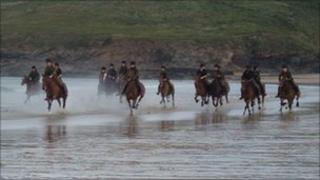 The King's Troop The Royal Horse Artillery has been given the freedom of Camborne.
The ceremonial unit of the British Army provides gun salutes on state occasions, but often visits Cornwall during the summer.
The honorary freedom gives the troop the privilege to march through the town "with colours flying with drums beating and bands playing".
An official parade will take place on 29 July.
Camborne Town Council decided the Honorary Freedom should be awarded to the unit in recognition of the role played by the armed forces in past and current conflicts.
The council said: "In past years it has been a custom for the King's Troop to visit Camborne to hold their summer camp at Gwealavellan Farm.
"The Town Council, officers, men and women of the King's Troop value the links, friendship and camaraderie that has developed over the years."