Report hints at Dartmoor Prison closure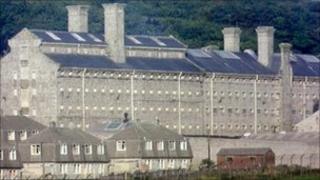 A confidential government report suggests that the 200-year-old Dartmoor Prison could be closed.
The Ministry of Justice (MoJ) study also raises the possibility of Exeter prison, which also dates from Victorian times, being shut.
The leaked Vision for Estate report obtained by the BBC also says a new jail would be built in east Cornwall to provide places for inmates.
The MoJ said it was working to provide "a fit-for-purpose prison estate".
The report says modernisation is urgently required and the "permanent closure of old and inefficient existing capacity" is "at the heart of this strategy".
'Live' document
A Justice Ministry source told the BBC that was a reference to Dartmoor, along with Exeter prison.
The report adds that another prison could also be built in south Dorset, but does not give exact locations.
The MoJ said in a statement that the report seen by the BBC was a draft document which did not represent the government's position.
However the MoJ source denied this, claiming it was a "live" document which was being worked on.
The MoJ said: "We have no plans to build a prison in Cornwall. No decision has been made about prison closures.
"We will look in detail over the coming months at the sentencing frameworks for adult and young offenders, as well as the full range of penalties available in the criminal justice system.
"This means introducing more effective policies, as well as overhauling the system of rehabilitation to reduce reoffending.
"We will take time to get it right and will consult widely before bringing forward coherent plans for reform.
"Long-term decisions on prison capacity programmes will be taken in the light of these policy developments.
"We will ensure that we meet prison capacity requirements more efficiently to improve value for money for the taxpayer and contribute savings to help reduce the budget deficit."
The Prison Reform Trust said earlier in July that Dartmoor Prison should eventually be closed because it was too isolated and too old.
It was responding to a highly critical report by the Chief Inspector of Prisons.